Meet the Staff
Leadership Team:

Brian King ~ Lead Pastor
Brian became Harvest's Lead Pastor in December 2008. He is a gifted communicator whose teaching provides unique insight and creative application of the Bible. His passion is helping people explore their next step of growth.
Brian grew up in Oklahoma City, but came to Oregon from Colorado Springs, Colorado. Brian is married to Marci and they have two children–Makayla and Nicole. He is a graduate of Oklahoma Baptist University and Golden Gate Baptist Theological Seminary.
When Brian isn't spending time with his family or serving at the church, he enjoys skiing, golf, fantasy football (and of course going to Duck games), hiking, and watching a great movie.
Email

Jay Lawson, Worship Minister
October of 2003 was when Jay (Harry Jr.) Lawson was invited to join the staff of Harvest Community Church. Jay and his wife Tami have three boys, Adam, Tori, and Ryan. Jay commutes all the way down I-5 from Salem each week and enjoys giving a large part of his income to "big oil" and "Pepsi".
Jay was born in Fort Worth Texas while his father was attending seminary. Texas was where Jay spent most of his childhood and was where he first knew God wanted him to be in ministry. After a few "teen" years of trying life his own way he finally realized following Christ is "Living The Dream" and has been living the dream ever since. (This is no joke, when you ask Jay how he is he will literally say "living the dream.")
Jay loves to play guitar and you can usually find him on the weekends in a coffee shop somewhere performing acoustic music. In the future, besides leading worship at Harvest Jay would like to own a custom built chopper motorcycle and explore more of God's beautiful Oregon creation.
Email
Julie Ulm ~ Children's Minister
Julie joined the Harvest staff in June 2015 as the Interim Children's Pastor. Julie grew up in the beautiful island town of Anacortes, Washington. In 1993 she moved to Eugene to attend Northwest Christian University, graduating in 1997. She spent several years as a youth pastor before taking time off to be at home with her little ones, who are now teenagers. Most recently, she has been working as a preschool teacher.
Julie is married to Benton, and they have three children- Wyatt, Rachel, and Sophie. When she is not trying to keep up with her three teenagers, Julie enjoys getting away to the family cabin at the coast, Starbucks coffee, a good book, and cheering on the Seattle Seahawks!
Email
~ Student Minister
Email: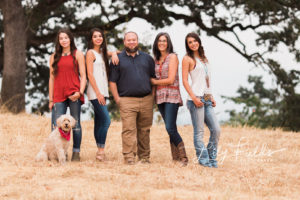 Susan Dusseault ~ Administrative Assistant to the Lead Pastor
Susan grew up in sunny California. She got her bachelor's degree in Psychology, then decided to travel the world for a year. Finally settling down in Eugene, she met her husband and they have been happily married for 22 years. Susan and Jeep have 3 teenage/adult daughters. She spent the last 20 years as a stay at home mom and homeschooler. As an autodidact she became a photographer about 7 years ago and has a part time photography business specializing in high school seniors and families.
Susan started working at Harvest in October of 2015 as a fill in to cover maternity leave. The interim job became permanent in January 2016. When she isn't teaching, working or playing with her camera, she enjoys road trips, eating out, creating, and enjoying nature.
Email
Jeanne Ortloff ~ Bookkeeper
Email: